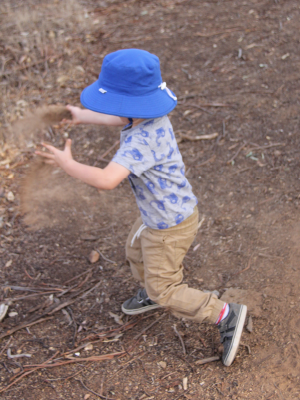 | | |
| --- | --- |
| Little Adventurers. The ones that are on the go and never stop. The type of child that does everything with an amount of craziness that'll keep you holding your breath and sitting on the edge of your seat EVERY. SINGLE. DAY! You can't sit back and relax at the park, no way, no how! You need to be on your toes and prepared to take action. Yep, you know who I'm talking about. Your little wild child. Your little canon ball. | |
At Little Georgie, we take pride in designing kids hats that are made to suit all types of little adventurers, even the wild ones! All of our sun hats have anti-flop brims to keep vision unimpaired and are adjustable to ensure a perfect fit. We've even added a safety break away attachment on the chin straps that will break free if snagged, caught or tugged on hard enough. We like to think we have prepared for every situation that may interrupt your little adventurer's explorations.
You see, at Little Georgie, we are parents to that wild child. We know your struggle and the struggle is real!! We like to think that our kids hats have been tried and tested to ensure they are designed with little adventurers in mind.
Check our product pages to see a full list of features or contact us if you have any queries about our range.
We are always striving to improve, so we'd love your feedback on our hats, the good and the bad!
Let the fun adventures begin!